By Tom Haley, Rutland Herald
January 26, 2021
Ben Smith will be consumed by the game if his first season as the Mill River Union High school varsity boys basketball coach ever gets green lighted. He will be designing the Xs and Os and exhorting his players, trying to squeeze every ounce of energy out of the Minutemen.
Yet, even with all this attention to detail, there have got to be moments when he has thoughts about two of his predecessors, two of the most important men in his life.
His father Jason Smith and a man he calls his second father Jack Rogers each had the same job as Ben. Jason and Jack had the title of Mill River boys varsity basketball coach.
Both died way too young, Jason at 49, Jack in his early 50s.
"Jack was a big, big part of my life," Ben said. "When my Dad passed away (in 2019), Jack was really a second father to me. He and my Dad were pretty close.
"He is also the one who asked me to start coaching. I have been very blessed to be able to learn from him over the last four years."
Ben Smith was the JV coach under Rogers and absorbed his teachings.
"All the stuff I have learned from him, I have been trying to teach these guys," Smith said of the preseason practices.
Rogers graduated from West Rutland High School in 1986 and coached his alma mater to the state title in boys basketball in 1995.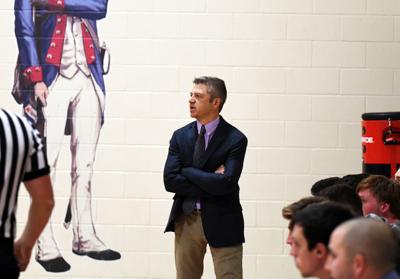 He took time off from coaching but got back into the game by coaching the Rutland High boys JV team and sitting at the side of Mike Wood as a Raiders' varsity assistant.
"He was a great guy, gregarious and very outgoing," Wood said.
"We shared the same vision of how to build a program."
Kyle Arnold and Eli Rogers, one of Jack's sons, were best friends. They grew up together, played in the Rutland High program together and recently shared an apartment in Boston for three years.
"He was one of the best guys ever," Arnold said of coach Rogers.
"I would say that he was one of the best coaches I ever had. "In terms of relationships, he was very intelligent and knew how to get his point across.
"He taught us to go after what we wanted and to put in the work.
Arnold and Eli also played on an AAU basketball team coached by Jack.
"He always wanted to win. He was very competitive.
"And he was very much a public figure. All over New England, people knew about us (the AAU team) and they knew about him," Arnold said.
Mike Morgan is another who treasures his time at Mill River playing for Rogers.
Morgan was a prolific 3-point shooter who amassed 1,421 points before graduating in 2017.
"Playing for him was one of the best things that could have happened to me," Morgan said.
"We bumped noggins at first until he straightened me out. He was a big dog and I thought I was, too. He kept us all in line."
Aidan Botti was one of the most recent of Rogers' players. He would have been a senior this season at Mill River but is honing his basketball skills at Proctor Academy in Andover, New Hampshire.
Rogers was a main influence on Botti when he made his decision to go the prep school route.
"He played a huge role," Botti said. "He was the first person to suggest it my freshman year.
"He knew he would be losing a ton of players my senior year and that my senior season might not be what I would want.
"He knew I had ambitions to play basketball at a high level. My goal is to play in college.
"He loved winning but above all he wanted what was best for his guys."
Botti is appreciative of the seasons he had with Rogers.
"He was such a big influence on me and my teammates and everyone who played for him.
"He had the ability to bring out the best in us," Botti said.
"He cared so much about all of us and it wasn't just about basketball. He is an amazing caring guy. He loved us and we loved him."
Fair Haven Union High boys varsity basketball coach Bob Prenevost saw that competitive fire in Rogers and it was something he greatly admired.
"His teams were always so well-prepared."
Prenevost and Rogers matched wits a number of times. Back when Rogers was coaching West Rutland and Prenevost was at the helm of Whitehall, their teams would meet in a West Rutland tournament.
Then, their teams were showcased in that fierce rivalry between Fair Haven and Mill River.
"On the sideline, he was so intense that his kids fed off him. They played hard for him. They played tremendously hard," Prenevost said.
"But Jack was always a gentleman. He never crossed the line. I really respected that about him."
It was several years ago that Rogers decided it was time to leave the Rutland program and direct his own varsity team at Mill River.
Wood remembers it well.
"He mentioned it to me when the opportunity came up. He wanted to be a varsity coach again.
"When one of your coaches aspires to that, you have to encourage them," Wood said.
"He was a player's coach. When he got the job, I wasn't surprised and when he had success there, I wasn't surprised."
And he did have success including last year when the Minutemen fashioned a 15-5 record. The year before that they went 13-7 and made a run all the way to the semifinals where they lost an overtime classic to Mount St. Joseph.
Preparation, as Prenevost alluded to, was one of the ingredients for all of the success.
The team concept was another. The players blended and became a family because Rogers made them all feel part of the team.
"Every player had a great relationship with Jack, even the 12th player on the team," Ben Smith said.
Nobody could have possibly thought that last season would be his last. Middle-aged and seemingly in great shape, he died of a heart attack in the summer of 2020.
The news rocked the Rutland area and the state.
"It was awful," Arnold said.
"Later (after playing) we got a lot closer to him. He gave us life advice."
"It was a huge shock. It came out of nowhere," Botti said.
It certainly came out of nowhere to Mill River Athletic Director Kim Maniery.
She had four head varsity boys basketball coaches since she was hired in 2014. She saw Rogers as the one who would give the program continuity, an outstanding coach for years to come.
"Jack was a huge part of the MRU boys basketball program. The time and dedication he and his coaching staff put in with these athletes really made everyone feel like family," Maniery said.
"Family was a familiar work I would hear sitting in my office at the end of practice or after their post game speech. Jack didn't leave a locker room or gym floor until the team was brought together and they would count off and yell FAMILY to conclude.
"Every player that played for Jack, I know especially here at MRU, bought into his vision for the program.
"The boys knew what they needed to do in the off season to be the best they could be during the season. Jack liked to challenge his players and they liked to challenge him.
"What impressed me about Jack was that he was a local guy who loved basketball and was all about the kids and how to make the program better.
"He may not have had the tallest, quickest, most talented group, but he knew how to mold the group of athletes he had into a productive, competitive and exciting team to watch.
"Jack and I would have conversations day and night about basketball, about how his guys were doing in school and what he could do to help.
"As a former basketball player, to see a coach come every day hyped up to coach his team was satisfying and rewarding for our program.
"Jack will be missed by our MRU Family and he will always be remembered.
"Coach Ben Smith, who has taken over as the new coach this season, brings a lot of what Jack had instilled into the program. Ben has picked up right where Jack left off. Coach Rogers would be proud of the job Ben is doing along with his coaching staff and the athletes on the court."
If the measure of a man is the positive impact he has had on people, Jack Rogers' life was an overwhelming success.
This Mr. Rogers' Neighborhood was a large and grateful one.
tom.haley @rutlandherald.com