By Tom Haley, Rutland Herald
January 28, 2021
Mill River Union High School graduate Tiffany Corey's fingerprints are all over the Northern Vermont University-Johnson women's basketball record book. They have withstood nearly two decades and the school's name change. She graduated in 2002 when the school was still Johnson State.
"Am I surprised? Yes," Corey said of the longevity of her records.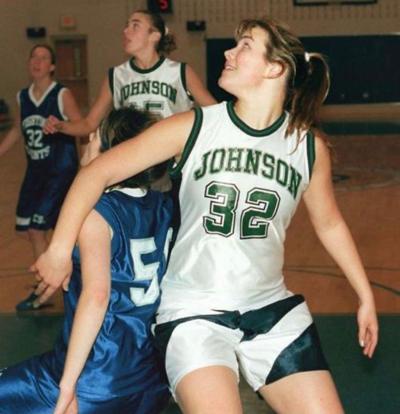 She is No. 1 for career records in points (1,724), rebounds (1,255), field goals made (728), field goal percentage (.543) and blocked shots (255.)
She is proudest of her rebound record. The tall post player loved going up and getting the ball to trigger the offense. One season she led the nation in rebounds.
Many people do not know that Corey nearly did not wind up in Johnson.
She ventured off to Eastern Connecticut State University for her freshman year and lasted a grand total of two days.
"I think I was naive Tiffany then. I didn't now anybody there and nobody reached out to me," Corey said.
There are others who have experienced the loneliness on the first days on campus far from home. It's not fun.
She had a childhood friend from Connecticut she met during the summers while camping at Lake Dunmore.
It just happened that Courtney was attending Johnson State and told the basketball coach Barb Lougee that Corey was already done at Eastern Connecticut.
Lougee, a Rutland High graduate, was well aware of Corey and had shown interest in recruiting her when Corey was at Mill River.
It was the perfect storm.
"Johnson had already started classes but Barb pulled some strings and got me in," Corey said.
Playing for Lougee proved to be a great experience.
"It was a challenge. She demanded a lot from us, academically and in basketball, as a coach should," Corey said. "It was clear that she cared about us."
Today, she is Tiffany Esslinger and she and her husband recently built a house on the Creek Road in Clarendon.
The great memories about her basketball career endure.
"The first two years we were a true team. We loved each other on and off the court. It was the most camaraderie I have ever been a part of," she said.
Another great memory was beating Castleton with a dramatic finish on a 3-point field goal by Sarah Parker.
"We watched it over and over and over," Esslinger said.
There was also the statistical oddity of scoring 22 points and grabbing 22 rebounds on her 22nd birthday.
She snared her 1,000th rebound in a game where she did not even know she had reached the milestone and was honored at the next game.
A Proctor High School physical education teacher, Esslinger has had some coaching stints. One was at the middle school level.
She doesn't feel her makeup is right to be coaching at that level.
"It wasn't competitive enough," she said.
She coached the Proctor girls varsity team for two seasons many years ago.
More recently, she served as an assistant under Ken Webb with the Mill River varsity girls basketball team. She believes that is where her future in coaching probably lies.
"I loved being back in the game," she said. "I would like to get back in it as an assistant without the pressure of being the head honcho and taking the phone calls from parents."
She and former Johnson State teammate Meghan Brough still visit Lougee periodically in Burlington. When Lougee retired, she was the all-time leader for the program with 160 victories, coaching the Badgers from 1991 through 2004.
Esslinger was inducted into Johnson's Athletic Hall of Fame in 2008.
She earned her Masters in coaching five years ago and has a goal of being a health coach.
The day might soon be at hand where she is sitting on somebody's bench as an assistant coach.
That would be a boon to some team. Imagine being a post player and learning the nuances of your position from someone who once led the NAIA in rebounds.
tom.haley
@rutlandherald.com