By Adam Aucoin, Rutland Herald
November 26, 2020
Tyler Corey has a transcendent ability on the soccer pitch.
He's a wizard on the ball, has vision for passes beyond his years and a powerful run that is rarely matched by his competitors.
Any time someone watches the Mill River boys soccer team play, No. 23 stands out and his play has earned him 2020 Rutland Herald Boys Soccer Player of the Year honors.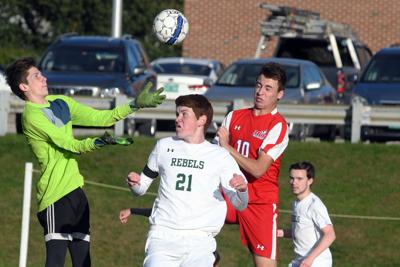 Minutemen coach Peter Roach has seen Corey grow into the player he is today. Opponents need to know where Corey is at all times, or they could pay the price.
"Tyler understands his teammates and their strengths and weaknesses," Roach said. "He always knows where he is in the run of play and what to do with the ball."
Having teammates that complement a star player is essential. Guys like Cameron Smith and Ryan Jones are perfectly in sync with Corey a lot the time.
"Tyler can work off those guys," Roach said. "Having a player like Cameron Smith to distribute to him allows (Tyler) to stay up top and do what he does."
In this fall's shortened season due to COVID, Corey scored 22 goals and had eight assists. In Mill River's away game against Mount St. Joseph, where Corey had four goals, he reached the 50-goal mark.
At season's end, Corey sat at 56 career goals, putting him third on the all-time list at Mill River.
On his current pace, he could pass Trevor Kotrady and Russ Carrara, the only two ahead of him, next season.
"Soccer is a team sport, but if you're a great player, you have to look at that and know what you could accomplish," Roach said. "When you have that mentality, it's a goal you have."
Corey was more important than ever this fall, given the Minutemen's roster situation.
For much of the season, Mill River was playing with just one substitute. Corey and his teammates had to battle through fatigue, soreness, and at times, injury to keep the team afloat. After a 7-5 season, they definitely accomplished that.
"That means a lot when you have a player of his caliber fighting through that stuff. Players can look at him and his example," Roach said.
"(Tyler) knows he's a physically strong young man. He's going to get roughed up a bit because that's the only way a lot of teams can keep him in check. He's gotten a lot better about not getting frustrated."
Talent can take you far, but it's that extra level of work that brings an athlete over the edge.
Corey certainly has the talent, but he has the work ethic to go with it in spades.
Roach recalled a story of someone working the garden at MRU, hearing Corey working on his craft outside of practice.
Those situations aren't uncommon for the junior.
"He's a guy that works hard in practice, but also stays before and after to get more work in, getting shots on and doing cone drills, sometimes until the sun comes down," Roach said.
"He's not one to rest on his ability. He's earned and deserves everything he's accomplished."
With one more high school season left, who knows where his game will take him.
With Corey's work ethic, probably far.
adam.aucoin @rutlandherald.com