By Patrick Mcardle, Staff Writer for the Rutland Herald
June 20, 2020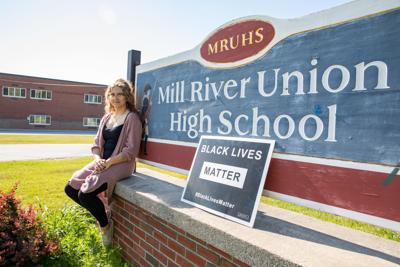 The Black Lives Matter flag and the Pride flag will be display at all schools in the Mill River Unified Union School District in the fall after a student, who is no stranger to activism, asked the supervisory union to consider her proposal.
At their Thursday meeting, the supervisory union board voted to approve the request, 8-1-1, after one member of the board abstained.
The board responded to a request from Reese Eldert-Moore, 17, who just finished her junior year at Mill River Union High School. Her mother, Tabitha Moore, is the president of the Rutland chapter of the NAACP.
Eldert-Moore, who identifies as biracial, said she had been thinking about the importance of displaying the Black Lives Matter at Mill River since last year when student activists were given permission to put up the flag at Rutland High School.
She said she was motivated as well by the growing national support since the death of George Floyd, the Black man who was killed by police in Minnesota last month.
"I should have done it a lot sooner because this has been going on for way too long," she said.
In her email to the Mill River Unified Union School District (MRUUSD), supervisory union School Board, Eldert-Moore noted the district had responded quickly to keep students, faculty and staff safe from COVID-19.
"That shows me that when you have the right pressure, you are capable of making changes quickly. This is very important and valuable not just because MRUUSD has Black and brown students, I being one of them, but because we are dying. The maltreatment of Black and Brown people is a pandemic that is killing us — some slowly through issues like health disparities and stress and some quickly like bullets to the bodies of George Floyd, Breonna Taylor and Ahmaud Arbery. It is important that everyone is aware that racism is happening in our schools and state," Eldert-Moore wrote. Although Floyd's death was attributed to death by asphyxiation as result of police brutality, he was not, in fact, shot to death.
According to figures provided by Dave Younce, superintendent of the MRUUSD, students who identify as non-white are 4.2% of the student body. Eldert-Moore said the lack of diversity affected her student experience.
"Being biracial in a school that's very white, and a state that's very white, has kind of been a struggle. I didn't realize how much racism was a norm for me until I went to a protest and there was a speaker who kept mentioning all these questions," she said.
Eldert-Moore said the speaker described times she had been challenged about the way she wore her hair, hearing "natural hair is too messy," and whether her skin was too light. Eldert-Moore said it highlighted similar questions she had gotten from friends, even well meaning friends, and challenges she got about her Black identity.
She said there were even people who would say she looked "too white" and she told her she wasn't "really Black."
Tammy Heffernan, chairwoman of the MRUUSD supervisory union school board, said there was a thorough discussion of Eldert-Moore's requests.
One of the decisions made in support of the request was to create an ad hoc committee, with Jodie Stewart-Ruck, principal of the Shrewsbury Mountain School, serving as chairwoman, to create an educational context. Heffernan said other logistics the committee will consider is the timing and student participation.
Heffernan voted in favor of displaying the flags.
"I believe that there is injustice that needs to be addressed. Honestly, I just felt that it was an appropriate action on my part personally," she said.
Eldert-Moore said she hoped the presence of Black Lives Matter flags would start conversations.
"Especially for the younger kids, they'll ask questions about it to their teachers and the teachers will have to answer these questions. Racism isn't really taught in the curriculum and that was one of the requests in my email," she said.
Along with raising the flag and adding issues of racism to the curriculum, Eldert-Moore asked the board to develop an action plan and implement restorative justice rather than a "zero-tolerance policy."
In an email to MRUUSD parents sent Thursday, Younce said the district has been developing an equity policy which he said he expect to be finalized and published "in the coming days."
Younce also told parents about the board's decision to display the Black Lives Matter and Pride flags.
"This is a strong and important stance for a board and district to take, and as an educational leader I do agree fully with the board's decision and direction," he said.
Moore said she was proud of her daughter for stepping up at Mill River where the elder Moore had been a student as well in her youth. Moore said she left Vermont for a time because of the racism she encountered but returned to try to make a difference. She admitted she didn't have as much success as she hoped.
"To see that my kid has taken up the fight on her own and is making strides that I never could makes me so proud, as a mom, as an alum. … She's a powerhouse," Moore said.
Eldert-Moore said she was "completely inspired by my mom."
"She's probably the only reason I ever got into activism. I grew up with her teaching me about all sorts of things like Black Lives Matter and LGBTQIA rights," she said.
patrick.mcardle @rutlandherald.com