By Jim Sabataso, Staff Writer for the Rutland Herald
March 19, 2020
WALLINGFORD — Daniel Betts likes an adventure.
It's what drew him across the country from his home in Southern California to Vermont to become Wallingford Elementary School's new principal.
Betts said he and his family had been road-tripping around the country in recent years in search of a new place to put down roots.
"Our heartstrings just kept getting tugged over to Vermont," he said.
Since 2017, Betts has been principal at Cottonwood School in the Hemet Unified School District in Aguanga, California.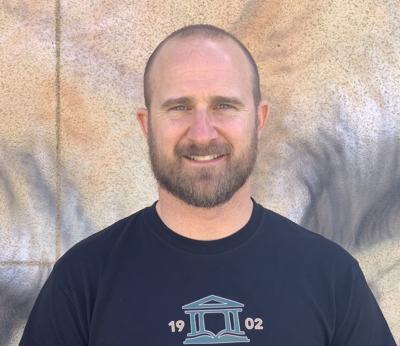 Prior to that, he was an assistant principal at another school in the same district. He has also taught in second, fourth and sixth grades as a math and English interventionist.
Betts has a bachelor's degree in psychology from Point Loma Nazarene University and a master's degree in school administration from Chapman University. He is currently licensed in Vermont as an elementary school teacher and principal.
While the California district Betts hails from has a student population of 22,000, he said the past three schools he worked at were in rural areas with around 200 to 400 students.
"They were the type of schools where everyone knows each other," he said, noting the similarities between those schools and WES.
Betts said he was "very impressed" after researching WES, explaining that the school's focus on personalized learning plans piqued his interest.
"It just really suits my fancy," he said. "You want to do everything you can to help this kid grow and thrive to their full potential. But that also includes behavioral support and social emotional support. … (I)f we can't support them in those areas, it's even more of a challenge to bring them up academically."
David Younce, superintendent of the Mill River Unified Union School District, said Betts "brings an outside perspective and experience to us."
"Daniel … emerged in a skilled, diverse pool of candidates as an excellent leader who is focused on people, relationships, learning and community," he said.
"We are excited about what lies ahead for Wallingford Elementary under Dan's leadership and believe that he will be a strong addition and a great fit with our district leadership team," Younce said.
Betts will replace Helen Richards-Peelle, who has been principal at WES since 2014. He was selected from a field of 11 candidates. He will begin work July 1 under a two-year contract with a starting annual salary of $100,000.
Betts said his wife and four school-age children were "100% on board" with the move.
"We're just an adventurous, outdoor-type family," he said.
When asked whether his family is ready for Vermont winters and the state's infamous mud season, he said they were looking forward to it.
"We're down for an adventure. We kind of thrive on the elements." Betts said, describing his family's recent visit here this winter where they went cross-country skiing and snowboarding in below-freezing temperatures.
"I'm confident that we'll acclimate well. We'll definitely be there for the long haul. We're looking at Vermont as our forever home."
jim.sabataso @rutlandherald.com